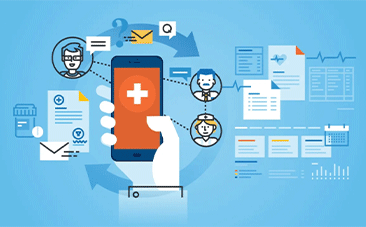 Proper implementation of remote patient monitoring can be beneficial for practices and patients.
There is a right and wrong way to implement Remote Patient Monitoring (RPM). Anelto's President and CEO, Mark Dennisen, shares his thought in this Medical Economics post.
The benefits of Remote Patient Monitoring (RPM) solutions for the Medicare population have been well documented. Healthcare organizations see better patient outcomes, lower costs, and more productive experiences for both the providers and their patients. Technologies such as RPM ensure a patient's safety and well-being while allowing them to live independently — without frequent trips to the emergency room or doctor's office.
Physicians are using solutions like RPM to track patients' vital statistics, including blood pressure, glucose levels, temperature, weight, pulse, oxygen levels, and other statistics in between office visits. By tracking these statistics remotely in real-time and over time, it allows physicians to see patients in person when warranted and transforms patient care from episodic to preventative, leading to better patient experiences and outcomes.
However, most RPM solutions are not developed specifically with the senior population (75 and up) in mind, especially those with chronic conditions such as high blood pressure, diabetes, and congestive heart failure. These conditions need consistent monitoring and easy access to care. Many of these seniors may also have limited access to broadband connectivity, be technology challenged, and need something beyond a consumer-grade tablet that was designed for another primary use and retrofitted for RPM.
According to the Deloitte Center for Health Solutions, 80 percent of healthcare costs are attributed to 20 percent of the chronically ill population. Given the early success in transforming care, it makes sense for RPM solutions to be deployed more widely. But they must be deployed the right way to achieve scale. To deliver a truly seamless experience to seniors, RPM solutions must:
Be purpose-built for at-home needs. Some RPM solutions utilize existing tablets or iPads and modify them for use as RPM consoles. While these are fine for entertainment, they are not intended to be used as healthcare devices. For example, the highest sound level on a tablet may not be loud enough for some seniors to hear clearly. At the same time, equipment retrofitted from use in hospitals is too complicated for at-home use for seniors.
Be easy for older populations to use so that compliance is not compromised. The digital literacy of seniors is a genuine issue when it comes to adopting healthcare technology. According to a recent survey of Anelto users, 61 percent of physicians say lack of digital literacy among patients is a major barrier to telehealth. To increase adoption, ease of use is critical. For example, the RPM device must be ready to use out of the box without a complicated setup to ensure senior patients engage in their healthcare by taking vital signs. In addition, vital sign monitors must be pre-configured and work when the patient needs them to. Because voice communications are the most effective way to help patients in their homes, interactions with live providers and automated must be engaging. Two-way communications must be available at a push of a button.
Include AI and automation that makes care management call centers more effective. When patients contact their care providers, they expect quick responses and instructions. Advances in AI and automation are making it much simpler for patients to connect directly with a doctor or other healthcare providers and healthcare providers to respond.
Be complete solutions, so seniors do not need to utilize multiple tools to track their health. Tools such as blood pressure monitors and oxygen sensors should integrate easily with the system and each other.
Integrate directly with care management providers, so seniors have access to 24/7 care. RPM providers should partner with a physician-approved care management company that monitors patients and delivers physicians' protocols. The RPM provider works with care monitoring centers to implement and integrate RPM into current physician workflows for enrollment and care delivery services.
As healthcare providers increasingly deploy RPM solutions to deliver better care for their patients, these solutions become easier to use and deliver more positive outcomes for seniors. Compliance will increase as patients embrace using technology as part of their healthcare regime. By implementing RPM solutions the right way, the entire healthcare ecosystem can benefit from reduced costs, increasing revenue, and a better all-around experience for patients and caregivers.
Mark Denissen serves as the president and chief executive officer of Anelto. He has a storied career in the technology sector. Mr. Denissen worked for more than three decades with Texas Instruments (TI), serving in various roles before becoming the Vice President of Worldwide Strategic Marketing. In this role, he was responsible for the startup of businesses such as Medical Devices, LED lighting solutions, and motor control solutions. Additionally, he was responsible for the commercialization of breakthrough technologies developed in Kilby Labs, TI's long-range research and development center, and worked directly with TI's Chief Technical Officer to move numerous projects towards commercialization. He holds a BSEE degree from the University of California Los Angeles.
Click here for the original post